---
Welcome to the Phantasy Zone!
Sound Phantasy is an audio/visual rhythm action game. The aim of the game is to press keys in time with the music and on screen action: do this well and you will get a high score, taking you to the next 'layer'. In total, there are five layers, each more difficult than the last and each offering a different challenge and visual experience.
www.soundphantasy.co.uk is designed to guide you through the game, from playing hints and tips, download options for the full offline-version game to development notes and history.
---
You will need...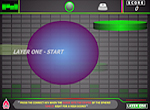 To play Sound Phantasy* you need a few things. First of all you must have the Macromedia Flash Plugin. If you cannot see the spinning Sound Phantasy logo in the top-right of this page, then you need to download the plugin. Go the to Macromedia Flash Plugin webpage and download the software: it will only take a few minutes!
You only need your keyboard to play this game. However, to get the best possible performance and experience from Sound Phantasy* it is advised that you close all unnecessary programs running on your machine (particularly if you have a slow computer).
As the audio components are integral to the enjoyment of Sound Phantasy*, the game is best experienced with in a quiet environment in order to hear the music, either through a pair of stereo speakers or (ideally) a decent pair of headphones. However, in the DOWNLOAD section, you will find a "NO SOUND" version of the game where it is unsuitable or unnecessary to hear the audio, or for people who simply do not wish to hear the music and sound effects.
Please note: SoundPhantasy* contains flashing colour sequences. If these sequences are likely to affect you, it is advised that you DO NOT play SoundPhantasy*
---