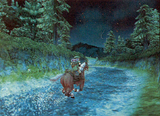 With the latest Zelda likely to be the final 3D console version of the game as we know it, director Eijo Aonuma has hinted about the efforts and features being put into Nintendo GameCube's swansong, due out (sometime) in 2006. Apparently:
The game uses the largest development team than any other game in the series
Link and the other characters will have motion captured animation
The content is larger than Wind Waker and Ocarina of Time (the total play time is over 100 hours)
Many new features and creative elements are present in the game that were originally to be used in the next generation Zelda title
With all the talk of boring "next generation" machines and bloody HDTV's, this title alone, on the humble Cubey, is still more anticipated by me than any hype the rest of the industry is artificially trying to muster for any other game or system.
Posted in: Videogames | Comments

I don't tend to read any other gaming sites apart from the ones on the right of your screen, but I realised I'm probably not missing much when I stumbled accross this odd piece, which made me chuckle.
In what seemed like a responce to Microsoft's hillarious marketing bullshit spin, monkey-typed webshite 1up.com asks "Can you hear your wallet crying yet?" for the Xbox360 and it's mostly bland launch line up. By their reckoning, the PSP had a superior launch line up to the Super Nintendo, as did the PS2 to the GameCube launch, conviniently leaving out any consistant facts that might have helped support their argument. As well as declaring Sega's infamously limp 128bit launch as the best of all time, the GameCube launch was apparently "an accurate indication" of the console as a whole: "a disappointment all around." As dissapointing as the thought someone probably got paid to write this? Keep trying.
Posted in: Videogames | Comments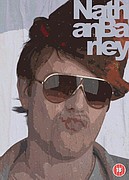 Yes. Finally, the Nathan Barley DVD has arrived. Play.com is your usual best bet, so get spending, yeah? Also, trashbatdotcock has been updated to coincide with the release, and there are some new downloads on the site, including some well weapon wallpapers and videos.
The brainchild of Charlie Brooker and Chris Morris, Nathan Barley is their latest comedy assault on society; a satirical parody of the Hoxton-finned, style obsessed world of the new media. Nathan Barley is 26. He is a webmaster, guerrilla filmmaker, screenwriter, DJ and in his own words, a "self-facilitating media node". He is convinced he is the epitome of urban cool and therefore secretly terrified he might not be, which is why he reads Sugar Ape Magazine - his bible of cool.
Posted in: TV | Comments

The sequel to Feel the Magic is relased in Japan on 20th October. Akachan wa doko kara kuru no? (Where do babies come from?) is the subtitle... make of that what you will. It's still likely the game will feature lots of fruitless endevours and rival dudes competing for the heart of your true love, but this time, there's a decidedly snowy, ski-mountain theme.
Check out the official Sega website for game details, story and events. There are also a few mini games on there too.
Posted in: Videogames | Comments
I've included a stylesheet switcher* for the site now, so feel free to play around with it at the bottom of every page and choose your favourite style to view Fointy Pinger. Isn't that nice?
Posted in: General | Comments

In mentioning the stylesheet-switcher, you 'may' have noticed the style copied from UGA's seminal "Rez": SEGA's mini site for the game can be found here. And on the subject of Rez, some nifty fellow has managed to record the audio tracks from the game into mp3 format, which also includes the excellent options screen and ending music that was missing from the official soundtrack. Basically someone has just played the game with the SFX turned off, but it sounds pretty good all the same. Download the motherfucker here.
Posted in: Music | Comments
To kea_ and flp for their help.
Posted in: General | Comments

play.com have the Adam and Joe DVD for sale at a nice and cheap price, so pick it up today! This DVD is packed full of the best bits from series 1-4, plus a whole host of extras, sound bites and a mini documentary thrown in for good measure. Sure, it really could have done with being spread across two disks, as it really struggles to cram in all of the best bits of the show, but maybe if enough people buy it, a second DVD will be put into production. Maybe.
Posted in: TV | Comments
Fointy Pinger is online! This site is going to be home to demonstrations of my work, videogame musings, reviews and links, plus a whole host of other pointless crap.
Posted in: General | Comments
Older