Rhythm Tengoku DS?
29 May 2008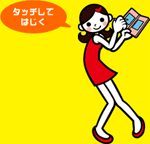 Lovely news, this. Nintendo have placed a teaser page on their website telling us that DS sequel to the utterly wonderful GameBoy Advance game Rhythm Tengoku is on its way. Called Rhythm Tengoku Gold, references are made to both the GBA original and the SEGA-produced arcade version, so there could be a mixture of the 2 games on one cart, rather than an all-new remake.
Expect a late summer release in Japan, but hopefully Nintendo will also grant it a western release this time around, and give the game the exposure it deserves.
This also follows interesting news from April that a sequel to the import-only but tremendously fun Daigasso! Band Brothers is set to arrive in June, though the likelihood of this getting a western release is even more remote, probably.