Guru Logic Champ sequel
17 September 2010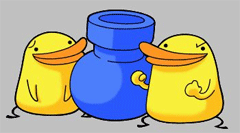 As it turns out, this is terribly old news, but cult GBA puzzle game Guru Logic Champ has a sequel of sorts, as part of Nintendo's DSiWare range. It was actually released last December in Japan titled Spinning Guru-guru Logic, and retains the brilliantly simple gameplay, but unfortunately loses the wonderfully bizarre character design from the first game. A shame.
The original was developed by Compile shortly before they dissolved in the early 2000's, so that might explain the new style. See how it works on Nintendo's website, as it's a bit difficult to explain.
I discovered the first title myself by chance a few years later, and was instantly hooked by its compulsive challenge and weird style. These days, a complete version of the game will set you back a pretty penny, but some clever folk have managed to create their own homage to the game, available to download for free on PC.