DSi region locking + DSiWare news
15 November 2009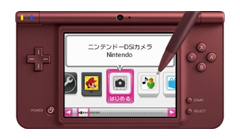 It turns out Nintendo's DSi system is region locked, something I wasn't aware of having never bothered to "upgrade" from the first DS model. Although this is essentially limited to games that use DSi-specific features, it's a disappointing revelation all the same, and one which is sure to prove more obvious to importers as the system matures.
Whether the new DSi LL model (released in Japan later this week) somehow rectifies the problem, we'll have to wait and see.
Staying in Japan, Nintendo is releasing a handful of DSiWare games over the coming weeks for something called "G.G Series". They are: Tetsubou, Drift Circuit (Thrash Rally?), Black X Block (N+?) and Vertex (erm, Fantavision?). All look curious, at least.
Also on DSiWare this month is another blumming version of Space Invaders Extreme, this one (Z) is really just a simplified version of Space Invaders Extreme 2. It's 500 points, but for a few pennies more, I'd probably advise picking up one of the full DS versions instead. Good, they are.