I've fixed a load of bugs, created some new ones, re-freshed the design a bit and and refactored some of the code (byebye Mootools). I've still got a lot of things to tweak and change, but for now take a look around if you like.
There's a new review up of World Soccer Winning Eleven DS to coincide with the World Cup, a feature on region-exclusive N64 games, and I'm going to try and push a few more updates to the site over the coming weeks, so subscribe to keep up to date!
Posted in: Videogames | Comments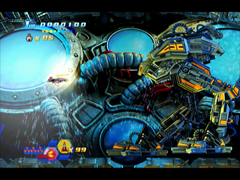 Duranik's Sturmwind has been in development for a few years now, but is finally wrapped up. The German-produced Dreamcast shooter borrows mechanics from several well-established proponents of the genre such as Axelay, Twinbee and of course R-Type.
"Another Dreamcast shooter. So what?", you're thinking. Well, just wait until you see the thing move. It's somewhat tasty - stunning, even. There's 16 stages to battle through, and plenty of options have been thrown in for good measure such as VGA support and an internet hi-score system.
Along with Sine Mora, it's been a pretty good year for hori shooters so far this year, eh? So, head on over to redspotgames and pre-order your copy (or the limited edition version) before its summer release, and get your trusty Dreamcast back under that TV in preparation.
Posted in: Videogames | Comments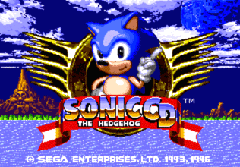 A port of probably the best ever Sonic The Hedghog game, 1993's Sonic CD for Mega CD, is heading to PlayStation Network, Xbox Live Arcade, PC, and iOS and other mobile devices before the end of the year. This was previously only available on PC and Sonic Gems Collection.
Apparently this was playable at the recent PAX Prime 2011 event. The port is being handled by an independent mobile developer but will feature tweaks and additional support for swipy fingers. By circumstance more than anything at this stage, it appears it will use the Japanese soundtrack and not the hideous US-remix that most people are familiar with.
The trailer probably isn't worth watching, but a note to publisher SEGA and "brand managers" on this matter: hey, stop trying to re-contextualise and appropriate a near 20 year-old Japanese-developed game in order to promote your decidedly tacky-looking new software. As much as you'd like to think you ain't, you are pointless.
Posted in: Retro | Comments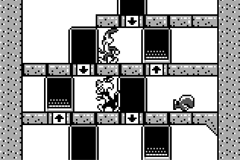 I've mentioned this before, but something just got even more perfect. FireNes, the world's bestest browser plugin has been swiftly updated to support the lastest version of Firefox, 5.0. Not only that, but it now also supports Game Boy emulation, with 1400 games. The game window seems a bit over-large for the Game Boy's tiny resolution display, but other than that this wonderful.
Head on over to the website and download now, and donate if you are able.
Posted in: Retro | Comments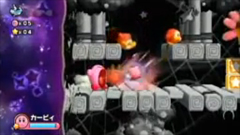 Nintendo has posted a small video of a new 2D Kirby game in development for Wii. Following the idiosyncratic Kirby's Epic Yarn, this new one looks graphically- and possibly gameplay-wise in line with more traditional entries in the series, bearing some resemblance to the cancelled GameCube game Kirby's Adventure, and of course the Nintendo 64 title Kirby 64: The Crystal Shards. Hopefully it plays with a little more urgency than that one, even though I did quite enjoy it.
HAL Laboratory are to head up development duties again: other than that I'm not really sure what else there is to know right now. Looks nice though, so taking a gander at the trailer is probably a good start.
Posted in: Videogames | Comments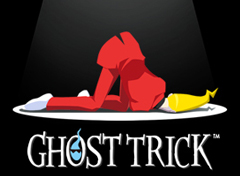 The Japanese have had this for a good while, but more details are now appearing on the western translation of Capcom's delightful DS title Ghost Trick, due for release in 2011.
The premise seems to be a mix of Phoenix Wright's angular character art style and storytelling, with gameplay elements from Wave Master's Roommania #203. It looks intriguing, wonderful almost. Peruse the official site for various videos, illustrations, and even a demo of the game.
Look out for this in Europe sometime after the US release in February.
Posted in: Videogames | Comments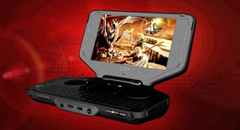 I've been very careful not to title this one Welcome To The Jungle. I wouldn't do that. Panasonic, occasional dabbler's in the videogame hardware market, have released further details of their Jungle handheld project.
Complete with keyboard and touchpad, and looking to all intents like it was designed in a single American afternoon, the Jungle sets itself out as an online, community-based, browser-based alternative to the NDS and PSP. Something like that.
With Nintendo's 3DS in the pipeline and the PSP established as firm favourite in Japan, Panasonic are probably more closely focused on crowbarring their way into the mobile device gaming market that the iPhone has so successfully forged as its own. I guess it's easy poke fun at this dodo in the making, but it's even more obvious to remember no hardware ever survived without quality (and/or appropriate) software to back it up. Just ask Nokia.
Posted in: Videogames | Comments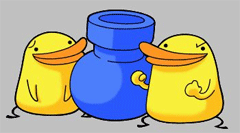 As it turns out, this is terribly old news, but cult GBA puzzle game Guru Logic Champ has a sequel of sorts, as part of Nintendo's DSiWare range. It was actually released last December in Japan titled Spinning Guru-guru Logic, and retains the brilliantly simple gameplay, but unfortunately loses the wonderfully bizarre character design from the first game. A shame.
The original was developed by Compile shortly before they dissolved in the early 2000's, so that might explain the new style. See how it works on Nintendo's website, as it's a bit difficult to explain.
I discovered the first title myself by chance a few years later, and was instantly hooked by its compulsive challenge and weird style. These days, a complete version of the game will set you back a pretty penny, but some clever folk have managed to create their own homage to the game, available to download for free on PC.
Posted in: Retro | Comments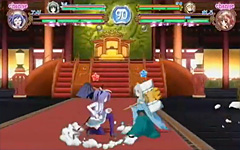 Developers Milestone (Radirgy, Chaos Field) release a new Wii title before the end of the month, and this one's a beat-em-up called Twinkle Queen. It seems a fairly standard girly brawler with combo's/special moves and anime artwork, until you realise there's also a 4-player Super Smash Bros.-a-like mode. An accompanying CD soundtrack to the game hits on the same day, 26th August.
Another similar beat-em-up from Milestone is on the way too: Project Cerberus for PSP.
Posted in: Videogames | Comments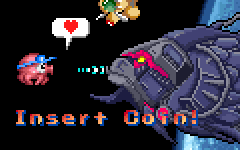 Both of these are quite old now, but always lots of fun. First is NFG's Arcade Font Engine, which allows you to dynamically generate your own text from many popular arcade fonts. Intrepid developers might be interested in downloading the PHP source files, which are kindly provided as an optional download.
Even better, though, are Shmups scene generator's. There's horizontal and vertical types, and another that you can use to create backgrounds for your phone. The graphics are limited to arcade shooters, but there's so many options on this one the possibilities are nearly endless. Don't forget to save your images once you're happy with them.
Posted in: Videogames | Comments
Older