Contact Details
If you would like to contact me with any questions, or want to contact the developer of this website to submit a proposal, please email me.
Education
In 2006 I graduated from De Montfort University after studying a sandwich degree course in Multimedia Computing. As part of the course, I have:
Developed websites
Created 3D animations
Produced multimedia presentations
Designed database structures
Coded in high and low level languages
Developed competent drawing and conceptual skills
Examples of work - Websites
I spent a year working for a web design company as part of my degree, helping to design, build and maintain a number of websites. Thereafter, I spent several years at various design agencies working in-house as senior web developer. Now I am available for freelance work.
Writings

I am was a staff writer on import videogame website NTSC-uk. I reviewed videogames. For you to read. Some were good. Some were bad. I tried to help you decide which ones to import. I have also reviewed games for Nintendo Life.
Examples of work - Game Design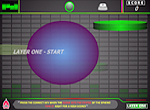 I developed an online game using Flash for my university final year project. It's a simple rhythm-action game that creates visual responces to the in-game soundtrack. To succeed, players require quick reflexes and a good sense of timing.
The official website is no longer available, but you can play the game here, providing you have Flash Player installed.
Examples of work - 3D Animation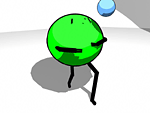 I made a 30 second animation in my second year using the Maya 3D animation software. This was to demonstrate character design and movement using 3D modelling. Although I feel the pacing and animation could have been improved with more time, I am still happy with the end result. Click here (.MPG) to download it.
Examples of work - Sound Design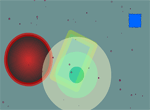 Another piece from my university course in sound, this was partly inspired by playing a lot of Rez at the time, and my desire to create a synergy between sound and interaction. The result was this, an audio-visual video, where every element seen represents a sound heard. (Requires sound)
The music used here is taken from the official killer7 soundtrack.